The role of non-state actors
Heading to COP22, Marrakech after featuring prominently at COP21 will be the community of non?state actors, chief among them cities, regions and businesses. A conference on low?carbon technologies will bring together representatives from the top universities. And the "Women Leaders and the Global Transformation" summit planned for November 16, 2016 will host women politicians, NGO chairs and CEOs in Marrakech, Morocco (See Close?Up: "dating sites with gps").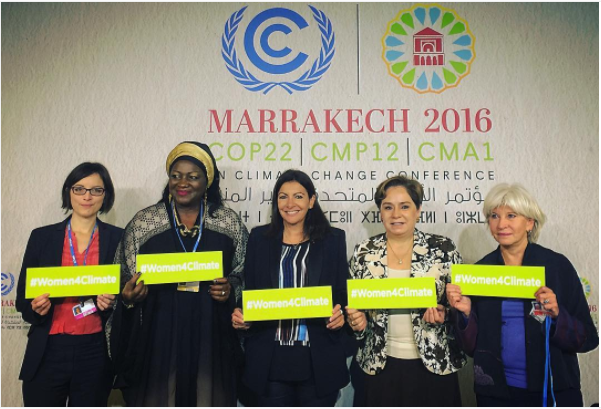 THE SUMMIT
Women Leaders and the Global Transformation Summit Under the High Patronage of His Majesty the King Mohammed VI
In the Context of the adoption of the United Nations Sustainable Development goals and the historic Paris Climate Agreement at COP21, both followed by the perspective COP22 in Marrakech, the Kingdom of Morocco is convening a worldwide summit on Women Leaders and Global Transformation needed to bring humanity on a low carbon economy trajectory. Through an impressive gathering of active women leaders in different sectors, from all horizons (business CEOs, City Mayors, NGO activists , Politicians, Scientists) this unique Summit was an opportunity to reiterate the new paradigm shift this is happening globally in the area of sustainable development, climate mitigation and adaptation due to solutions provided by women.
Women Leaders and the Global Transformation Summit took place Wednesday, 16 November, Palmeraie Golf Palace – Marrakech, Morocco
White Paper "Women, health and climate, moving on in #togethernessship towards #Call4Climate@COP22"
Strongly mobilized via the call of 08 December 2015 at the COP21, the networks Supplement of Women and Sustainable Development continue to alert by launching a white paper entitled "Women, health, climate, move together towards the COP22 and beyond" Of the conference of 16 November 2016 with the Ministry of Families for Children and Women's Rights, the Ministry of Environment Morocco at Palmeraie Golf Palace – Marrakech. This publication gathers 22 testimonies of women and men, from the private or public sphere, working in their own way against climate change and its impact on women and health.
Annakhil, Royaume du Maroc
All unsustainable unfairness must STOP here and now;
@Regions20 Nov 17
Congratulations to @Michele_SABBAN, then to the top of the women leaders  the @COP22 for the Presidency of the green background for women! @ArnoldUpdate
@natashai16 Nov 16
Thnx to @Akon supporting women in their fight against climate change #womenleaders #cop22

Thank you @Michele_SABBAN your commitment for the #femmes pr and pr struggle against the #climatechange! Let's tackle #genderequality! #COP22
The poem on climate change that shocked the UN
@IrinaBokova Nov 16
Women are not only victims of the #ChangementClimatique, they are carriers of solutions #COP22
@COP22 Nov 16
"We need examples of women in first line of action for the climate, resilient and ready to fight back," Mary Robinson @MRFCJ
@natashai16 Nov 16
Thanks to @MRFCJ for his support in fault in women in their fight against climate change @UN_Women #womenleaders
@HElHaiteCop22 Nov 16
Mary Robinson congratulated the Moroccan women's leadership for their commitments
http://womenglobaltransformationsummit.com/index.php
..so the the winter solstice goes on… _ _ _ …