@ECO4CLIM_Rdg Join the Ecopreneurs for the Climate in Reading "Glocal Week of Green Business for #Climate, #Innovation + #Jobs OCT 24-30"

This is going live in the U.K. in October 28th!
Whether you are a student or an Ecopreneur, whether you are a free-lancer or work in an SME, or even in a large company, as long as you believe change is possible; our contribution makes a true difference for the people and the planet. This is your movement – Inclusive, diverse, fun and transformative. Your generous contribution to this campaign will, in a few years, develop 50 labs across the world / empower more than 500 ecopreneurs / generate 3,000 green jobs and directly avoid hundreds of tons of CO2 emissions into the atmosphere.
How can you join?
The 2016 edition "ECO4CLIM_Rdg" will take place on October 24-30, 2016. It will comprise of multi-stakeholder eco-innovation workshops and the Climate Champion Awards. **Save the Date28 Oct** ECO4CLIM_Rdg's coordinators, climate-champion ecopreneurs and global partners participate in prestigious international forums the likes of CLIMATE CHANCE WORLD SUMMIT in France, the Women Leaders and the Global Transformation Summit, the #COP22 Climate Summit in Morocco, or SwitchMed Connect 2016 in Barcelona. Now is the time, participate, add your city or join our ecosystem of partners:
Looking to unlock Reading's green potential. We will, in three weeks, seek to locate and highlight eight local climate innovations (Eco-preneurs)! Do not hesitate to put forward to us yours or any local low-carbon Innovation that can reduce Reading's Greenhouse gas emissions footprint!
!Green entrepreneurs for the #Climate, the Global Week of Green Business and the Climate Movement – October 24-30, 2016 #ECO4CLIM16 Climate organiser for #ECO4CLIM_Rdg Please let us know if you like to be trans-boundary involved. We are looking for – Space partner, – Media partners, – Sponsors and – Enablers for Reading Climate Champion Awards 2016 – Email eco4clim @ cccrdg .org .uk
We warmly welcome you to participate in the ECO4CLIM_Rdg Event – Climate, Innovation +Jobs "Glocal Week of Green Business and the #ClimateMovement" Friday 28th October.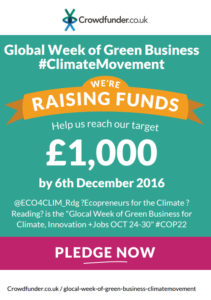 Feel free to pledge-as-you-feel to get UK's first Climate LAB started 🙂
https://www.crowdfunder.co.uk/join-the-ecopreneurs-for-the-climate-in-reading