For immediate RELEASE: Community Event
Reading People's March for Climate, Justice and Jobs, 28th November 2015
Gaia needs you! – It is time to act!
SYSTEM CHANGE not CLIMATE CHANGE
Walk with us on Saturday 28th from Christ Church to the Town Hall Reading or join in at any point along the route. (Assemble 12 noon tea and coffee, get organised)
Exciting speakers announced for the 28th November
https://readingpeoplesmarch.wordpress.com/speakers
Join us afterwards at the Town Hall from 2:15 for welcome by the Mayor; music and speakers (including 10:10, Campaign Against Climate Change, Quakers, Global Justice Now, National Trust, Green Party, and Deputy Leader of the Council)
This weekend, people across the world will join together and make a spectacular stand. Marches and creative actions are planned globally – and Reading will be a part of that as communities join together for a message of hope and optimism.
We are delighted to announce an amazing range of people who will speak at Reading People's March for Climate, Justice and Jobs this Saturday. Be sure to look out for some Local Champions too marching with us throughout the demonstration and speak in the Town Hall!
We have worked hard to bring the big issues facing us in Britain and across the world to the protest – from fracking, to flooding, to the need for investment in renewables and jobs.
We want everyone to leave the day inspired and ready for action.
Climate change affects everyone, it is a global issue People are already facing the furious impacts of environmental devastation through floods, droughts, landslides, and typhoons
Be part of the global solution People all over the globe will be marching on 28th and 29th November to mark the beginning of the COP21 summit in Paris.
If there is an issue that is important to you and your friends, then make a banner, make placards, form a bloc and let your voices be heard!
Leaders must listen when hundreds of thousands of people march and demand that they support ambitious action on climate change and injustice.
No to dirty energy (fossil fuels)
Yes to renewables
Yes to Justice for People and the Planet
Yes to new Climate Change related clean jobs
Yes to sustainable development NOW
Yes to science and clean tech for the future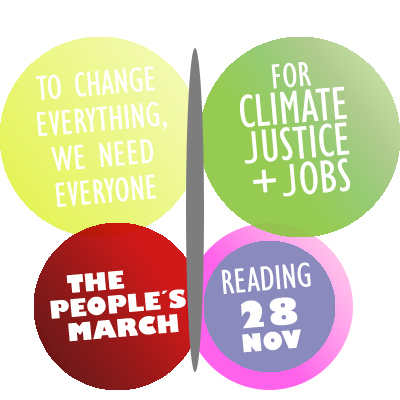 We believe that change is possible and within our reach if we stand together.
Check website for updates and information
 For further information, please contact Carl, Eleanor, Julia or Suzie at climate @ readingpeoplesmarch.org