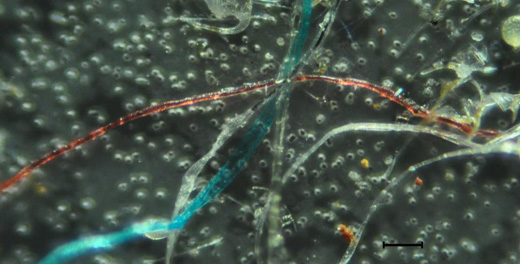 The problem of microscopic debris in the ocean is much greater than previously thought. Water samples taken in the harbour of Lysekil, by researchers from IVL Swedish Environmental Research Institute, contained 30 times more microscopic debris than previously measured in similar samples along the Swedish coast.
– The results are disturbing. Microscopic debris is not visible to the naked eye, but it can damage the marine wildlife to a larger extent than other debris, says Fredrik Norén, marine biologist at IVL.
Microscopic debris consists of small particles of plastic, textile and other kinds of waste, and since they are the same size as phytoplankton and zooplankton they will either be eaten by animals in the sea, or can adhere to the gills of fishes. The particles can also be carriers of toxic substances and that way transport environmental toxins into the animal that eats the debris.
The largest source of microscopic debris is not, as one could expect, marine transports or boats, but rather the debris from our cities. Debris thrown on our roads and streets will be transported by rainfalls towards the oceans and the problem exists in all cities where the currents will concentrate the debris at the water's edge. The Swedish west coast is also the recipient of debris from other costal European cities and rivers, due to ocean currents.
– The way we live in the cities is a major source of the microscopic debris we now see in the sea. The good thing about that situation is that we as a society can do something about the problem. We can both improve our processes to treat storm water, as well as to educate people to throw less garbage in their urban environment. The municipalities can in turn increase the number of available garbage bins, says Fredrik Norén.
He is critical to how storm water currently is disposed along the Swedish west coast. There is too much microscopic debris that passes through the wastewater treatment plants and runs straight into the ocean.
– We need to do more studies on the debris that is currently slipping through the treatment plants filter and we must also develop new techniques for the treatment of storm water. There is plenty more to be done in this area, says Fredrik Norén.
For more information, contact: Fredrik Norén, fredrik.noren@ivl.se,
phone +46 31 708 65 05
Visit as well: http://www.n-research.se/forskning.php?id=1
via Microscopic debris worries marine environmental scientists  – IVL Svenska Miljöinstitutet.