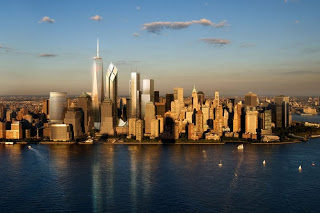 Panoramic view of new OWTC
Source: Architecturaldigest
Green building
OWTC incorporates not only new architectural and safety standards, but new environmental standards as well, setting a new level of social responsibility in urban design. According to the New York Port Authority, the OWTC has already been certified to LEED Gold and will set the global standard for sustainability. Once the building is fully operation, it's expected to draw as much as 70 percent of its power from green energy. Some other green facts are:
Fuel cells, waste steam recycling, harvest rainwater, landscaping with more than 400 trees, waste material recycling,  use of green cement, renewable wind and hydro power energy, indoor air quality, daylighting, low water bathrooms, green port a potties
References and Further Reading
Green facts about New York's new one world trade center
via Science and Engineering for Sustainability: New One World Trade Center.