OECD conference in Stockholm on green growth
Green Growth in Cities was the theme of a conference arranged by OECD in Stockholm. Based on the reports which were launched, the conference elaborated on the potential of cities and regions around the world to foster economic growth and reduce environmental impact through innovative policies and political commitment.
H.R.H Crown Princess Victoria of Sweden was present during the Green Growth in Cities – Urban Evolution conference in Stockholm, here with Sten Nordin, the Mayor of Stockholm and Yves Leterme, deputy secretary general of the OECD.
renewable energy, green certificates, climate change mitigation policy, climate change, carbon tax, greenhouse gas emissions
Stockholm was the subject of a case study, find it here
The Organisation for Economic Co-operation and Development (OECD)
Sweden has developed an extensive and sound policy framework to limit greenhouse gas emissions. It is now one of the OECD countries with the lowest greenhouse gas emissions per capita and it has successfully managed to decouple GDP growth from emissions growth. However, as Sweden has already significantly lowered its greenhouse gas emissions, the cost of reducing them further could be very high, making it urgent to improve the cost-effectiveness of Sweden's climate change policies. A strategy to enhance the cost-effectiveness of this policy framework would include: i) reducing differences in carbon prices between sectors and increasing even further the role of market-based instruments; ii) limiting overlap between targets and policies; iii) raising Sweden's participation in greenhouse gas emission reductions abroad; and iv) improving the assessments of the policy framework. This Working Paper relates to the 2011 OECD Economic Survey of Sweden (www.oecd.org/eco/surveys/Sweden).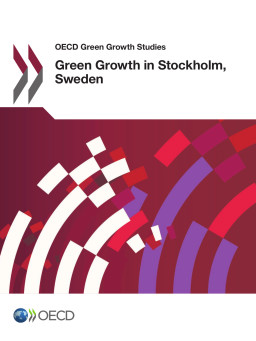 Download full report here: OECD: Green Growth in Stockholm (123 pages)
http://www.mynewsdesk.com/pressroom/stockholmbusinessregion/document/download/resource_document/27275