Glass tiles make the roof for solar panels
A new technology that allows sunlight to heat up the house completely silently, with zero carbon and with minimal running costs are now being developed. With the help of KTH researcher Peter Kjaerboe and many others. This is through the use of glass tiles on the roof, which allows light which can be used as energy to pass through to the fabric layers below.
Glass tiles are the same as conventional roof tiles, except the glass passes light to the fabric substrate.As a result When light passes through the glass and hits the fabric it is converted into heat.The heated air can then either heat the house directly or transferred to the liquid-heat, says Peter Kjaerboe.
The system can be integrated with other energy systems such as district heating, geothermal heating, heat pump, pellet, wood, oil or electric boiler.
Climate Pact member SolTech Energy markets solar power solution, whose life expectancy is estimated to be at least 40 years.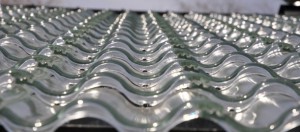 Read more here .