Morocco's concerns about the climate are not fading. After Marrakesh, it is Agadir's turn to bring together the concerned actors, but this time in the framework of a Summit. Indeed, the city of Agadir will host the 2nd;
WORLD CLIMATE CHANCE SUMMIT FOR NON-STATE ACTORS from September 11 to 13, 2017.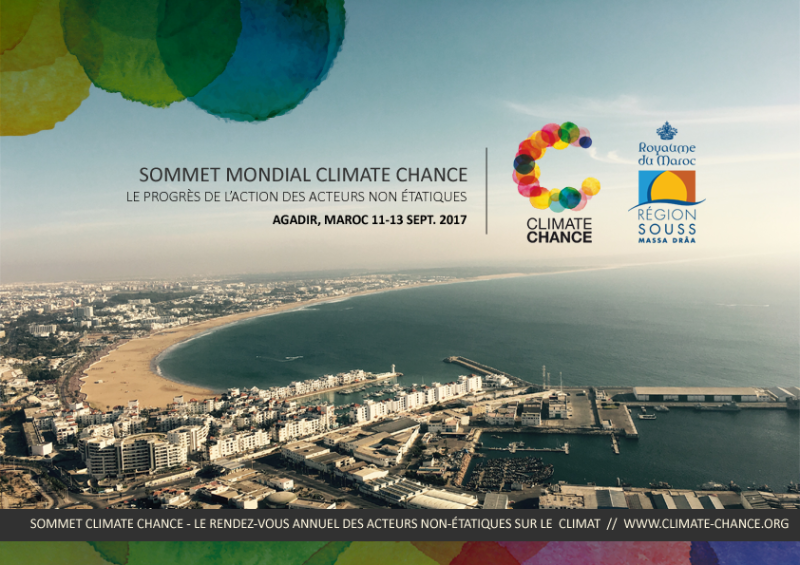 It's a privilege to participate n'

#ClimateChance

2017, formalising the conversation on;

– reducing the vulnerability of countries to the impacts of climate change by strengthening their resilience adaptation.

– integration of adaptation to the climate change in development policies, programmes and projects as well as in National Budgeting.

– facilitation of access to climate risk transfer for disaster adaptation.
The first one took place in Nantes, this 2nd edition is Moroccan and will measure the progress of the action, To deepen exchanges on successes and difficulties and to foster the pooling of experiences and innovations.

 

Also, this edition will place particular emphasis on the stakes of the African continent and more widely the countries of the South.
On this occasion, the organisers stressed: "Almost one year after COP22,  This Summit will be an opportunity to take stock of the agenda of the action and in particular the Marrakesh partnership. It will also be an opportunity to prepare joint messages to be delivered to States at the COP23 as a
Follow-up The Nantes Declaration
, which remains the most widely signed text by non-state actors. Since the adoption of the Rio Convention on Climate in 1992 ". It should be recalled that the Declaration of Nantes was adopted at the World Summit in September 2016 in Nantes and coordinated by the Climate Chance Association.
It has as its motto "Strengthening concrete action to bridge the gap between current commitments and the objective of the Paris Agreement". The program of this edition consists of three usual pillars of Climate Chance:  There are first the forums to Take stock of COP23 on the actions of the 20 sectoral coalitions (transport, energy, etc.). To these forums are added plenaries, organised in the usual way of Climate Chance. These opening and closing plenaries will address the themes of Financing, the challenge of cities in Africa and migration. The workshops constitute the 3rd pillar. A call for papers was launched on 28 February and remained open until 15 May to decide on the workshops that will enrich the program and make it a moment of sharing and reflection. The selected contributors authorize the Climate Chance Association to reuse and communicate their work.
Climate Chance also thought about organising stands, totally free, Where non-state groups and African associations will be represented. The Summit also provided specific events to highlight crafts and local territory.
With more than 80 workshops of good practice, which will be presented around 17 themes affecting different sectors and a large participation involving more than 3,000 members, this 2nd edition of the Climate Chance Summit is promising.
Source: Libe'ration