BREAKING The date has arrived it's #TimetoCycle to #COP21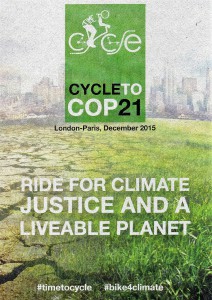 Sustainable Transport Now!
System Change Now!
London to Paris, 6th – 10th December 2015
The 21st Conference Of the Parties (COP21) taking place in Paris at the end of 2015 is going to be BIG!
Those in power will gather at this environmental summit but, unfortunately, the hope to get a working and legal binding agreement by the end of it is once again quite small.
We therefore must take the power into our own hands! In hundred of thousands, people will mobilise in Paris to speak out, show solidarity with front line communities already affected by climate change and take action.
What better way to get there than by showing the alternative to our fossil fuel dependent culture?
———- PLAN ———-
Over 5-days and about 200miles, we will cycle from London to Paris starting off with 150 people and building in numbers along the way.
We will be cycling in smaller groups in order to make the ride more feasible and to help develop affinities and trust amongst people. By the end of each day, we will all gather for communal meals, as well as activities and workshops to be able to share our skills and prepare for taking action in Paris.
The Climate Games will be one element and way to take part in the mass day of mobilisation on the 12th December. The cycle ride will therefore provide space and information along the way for you to arrive prepared for your time in Paris.
The ride also has a jump on/jump off system, so if you do not want to or can not take part in the whole ride, you may join some of its sections.
Symbolically, this project will be much more than a cycle ride. By going in to school and social enters before and on the way, we will gather stories and dreams about the effect of climate change on people and how they would imagine a world where we stop it. As messengers of a much broader community, we will bring them to Paris and display them loud and clear.
Whether you are an experienced cyclist or a novice, on an electric bike or a tandem, young or old, there is a place for everyone.
Ride with us for #ClimateJusticeJobs and a livable planet
Find out more through the Time to Cycle website: www.timetocycle.org
#Climat21 #1000initiatives