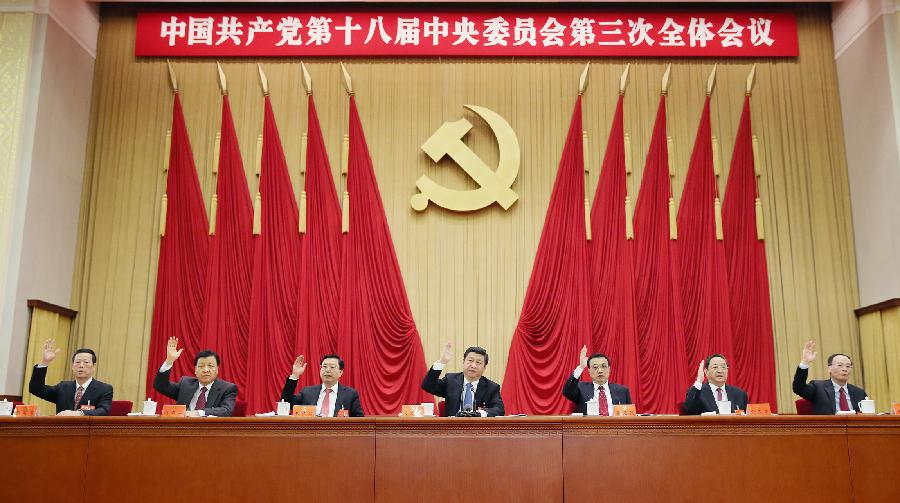 Top Chinese leaders Xi Jinping (C), Li Keqiang (3rd R), Zhang Dejiang (3th L), Yu Zhengsheng (2nd R), Liu Yunshan (2nd L), Wang Qishan (1st R), Zhang Gaoli (1st L) attend the third Plenary Session of the 18th CPC Central Committee in Beijing, capital of China, Nov. 12, 2013. The session lasted from Nov. 9 to 12. (Xinhua/Lan Hongguang)
BEIJING, Nov. 15 (Xinhua) — China will loosen its decades-long one-child population policy, allowing couples to have two children if one of them is an only child, according to a key decision issued on Friday by the Communist Party of China (CPC).
China will implement this new policy while adhering to the basic state policy of family planning, according to the decision on major issues concerning comprehensively deepening reforms, which was approved at the Third Plenary Session of the 18th CPC Central Committee held from Nov. 9 to 12 in Beijing.
The birth policy will be adjusted and improved step by step to promote "long-term balanced development of the population in China," it said.
Relaxing the policy will keep China's birth rate at a stable level, said Guo Zhenwei, a family-planning official with the National Health and Family Planning Commission.
To ensure coordinated economic and social development, the population size for China should be kept at about 1.5 billion, said Guo, citing the results of a study sponsored by the State Council, China's cabinet.
China should keep its total fertility rate at around 1.8, and the current rate is between 1.5 to 1.6, allowing the country to maneuver its population policy, according to Guo.
Wu Cangping, an adviser with the China Population Association, believed the change in China's family planning policy will unlikely lead to a baby boom because of Chinese parents' traditional preference for more children has changed due to rapid social progress in the country.
The change in policy was met with a warm response.
Many Internet users welcomed the change while others said they would have a second thought when giving birth to a second child because of high living costs.
An Internet user identified herself as "Hikaruhuang" hailed the reform as "very good." She said her child would have a companion and less pressure in elder care.
China's family planning policy was first introduced in the late 1970s to rein in the surging population by limiting most urban couples to one child and most rural couples to two children, if the first child born was a girl.
One-child families are entitled to bonuses and other benefits. Official statistics show such families account for 37.5 percent of China's more than 1.3 billion population.
The policy was later relaxed, with its current form stipulating that both parents must be only children if they are to have a second child.
Since its implementation, it is estimated the policy has resulted in a reduction of some 400 million people in China.
However, the policy has also been blamed for generating a number of social problems.
China's labor force, at about 940 million, decreased by 3.45 million year on year in 2012, marking the first "absolute decrease." The labor force is estimated to decrease by about 29 million over the current decade.
Meanwhile, the country's growing elderly population aged 60 and over, which accounted for 14.3 percent of the total currently, is forecast to exceed one third of the population in 2050.
Gender imbalance is another side effect of the one-child policy. Chinese parents' preference for sons led to the abortion of female foetuses due to the policy.
About 118 boys are born for every 100 girls in 2012, higher than the normal ratio of 103 to 107 boys for every 100 girls. Millions of Chinese men will be unable to find wives in 2030.
Economists say the one-child policy is also a cause for the high savings rate among Chinese people.
"The change in the family planning policy will certainly affect China's one-child generation — some of whom have already become parents. It will help them enjoy a better future," wrote an Internet user called herself "shanma123."
via China to ease one-child policy – Xinhua | English.news.cn.