Coco Liu, E&E Asia correspondentClimateWire: Tuesday, April 16, 2013
LIJIANG, China — After photographing Black Dragon Lake here for eight years, He Jiaxin knows of more places where he can get the lake to mirror the majesty of its surrounding mountains than anyone else. But this year, he has a problem: The lake has disappeared.
Since its springs dried up last year, no water has flowed into Black Dragon Lake for more than 400 days. At the same time, hot weather caused a high evaporation rate, turning a large part of the lake into a play yard for children.Black Dragon Lake had plenty of water in 2008, before the record drought. Photo courtesy of Gad Ariel.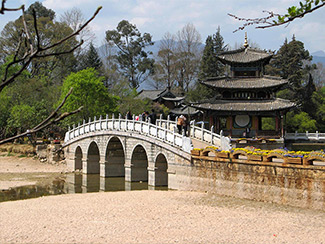 "Ive never seen such a dry-up before," He, a 36-year-old local photographer, said while staring at the parched lake bed. "It hasnt rained in Lijiang for a really long time.
"Lijiang is hardly alone. Similar situations are happening across other parts of Yunnan province, which usually has more rain than half of Chinas regions. But it has experienced extremely low rainfall for the past three years.
In the first quarter of this year, Yunnans average rainfall dropped by 70 percent, indicating the start of the droughts fourth consecutive year, according to the water resources department in the region..
via Drought: What happens when Asias water tower dries up? — 04/16/2013 — www.eenews.net.