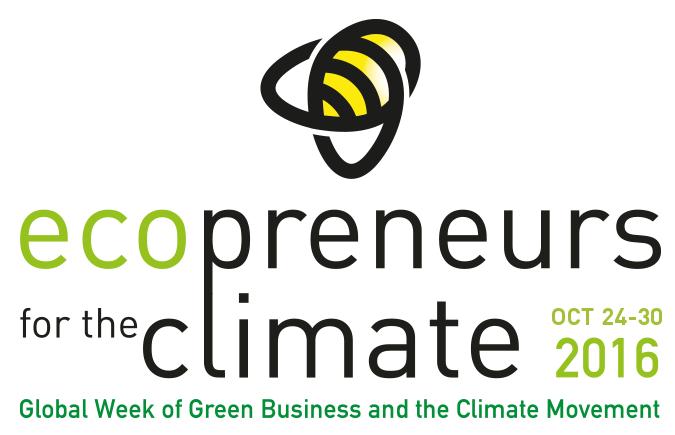 Ecopreneurs for the Climate – Reading
"Ecopreneurs for the Climate – Reading" is the Glocal Week of Green Business and the Climate Movement.
NEWS
Press release 24/10/16: pressrelease_reading_eco4clim-ecopreneurs-for-the-climate-2016-global
Press release: pressrelease_reading_eco4clim16 
Climate change poses a phenomenal challenge to Humanity, yet it is also an incredible opportunity to create a new economy that works for all, and protects the one planet we've got. Plenty of people out there are striving to making this vision a reality. We are the Ecopreneurs for the Climate in Reading, part of a global movement tackling climate change via sound, innovative, and cooperative business solutions.
A week of activities (eco-innovation workshops and Climate Champion Awards) is taking place in cities and communities all across the world, aimed at scaling up green business solutions to tackle climate change. After the successful 2015 Edition, in which 7 European cities from 4 different countries took part (Berlin, Amsterdam, Paris, Madrid, Barcelona, Valencia and Seville); more cities are joining the glocal movement of "Ecopreneurs for the Climate" in 2016,  which is gaining momentum after the historic Paris Agreement. Innovative business solutions, supported by green economy ecosystems, are needed to mitigate and adapt to the challenges posed by climate change.
The 2016 edition "ECO4CLIM16_Rdg" will take place on October 24-30, 2016. It will comprise of multi-stakeholder eco-innovation workshops and the Climate Champion Awards. **Save the Date 28 Oct** ECO4CLIM_Rdg's coordinators, climate-champion ecopreneurs and glocal partners participate in prestigious international forums the likes of CLIMATE CHANCE WORLD SUMMIT, the Women Leaders and the Global Transformation Summit, the #COP22 Climate Summit in Morocco, or SwitchMed Connect 2016 in Barcelona. Now is the time, participate, add your city or join our ecosystem of partners:
Looking to unlock Reading's green potential. We will, in three weeks seek to locate and highlight eight local climate innovations (Ecopreneurs)! Do not hesitate to put forward to us yours or any local low-carbon Innovation that can reduce Reading's Greenhouse gas emissions footprint!
!Green entrepreneurs for the #Climate, the Glocal Week of Green Business and the Climate Movement – October 24-30, 2016 #ECO4CLIM16 Climate organiser for #ECO4CLIM_Rdg Please let us know if you like to be trans-boundary involved. We are looking for – Space partner, – Media partners, – Sponsors and  – Enablers for Reading Climate Champion Awards 2016 – Email eco4clim @ cccrdg .org .uk
(((Stay tuned for Updates!)))
To register for the event, both to attend and to present at the Awards, visit this link:
https://www.eventbrite.co.uk/e/eco4clim-rdg-tickets-28430033997
Organiser – Carl Emerson, from Climate Change Center Reading (http://cccrdg.org.uk)
Contact info – eco4clim @ cccrdg .org .uk
On Twitter – @ECO4CLIM_Rdg @ClimateMovement
Event's date – 2016-10-28
Start time – 12:00 pm
End time – 4:30 pm
Venue – The Oakwood Centre
Address – Headley Road, Woodley, RG5 4JZ
#climatechance #COP22 #innovation #cities #Climathon #CWNYC #innovationmonth #InnoTrans2016 #Business #RE100 #Sustainability #ParisAgreement #AccordDeParis #SDG11 #Changemaker #villes #regions #smartcities #startup #energy #entrepreneur #climat #climate #renewable #economy #netzero #energystorage #BatteryStorage #Photosyntesis